The opening shot of the "Heartbroken" music video is something out of a daydream. The artist, Sabrina Song casually sits on top of a roof, legs outstretched, a cool look on her face, as she looks into the camera and tells her lover that she will not play the part of a heartbroken girl. Bathed in endless sunlight, and an electric yellow sky, the video is like an A24 production; a merging of art in an otherwise ordinary space.
"We wanted it to be these girls who seem out of place in the places that they are," said sophomore, and Tisch student at NYU, Sabrina Song. "They're high fashion, and have this edge, in these suburban, and more mundane settings."
Songwriter and singer, Song (say that three times fast) has released a few tracks before, but "Heartbroken," is the first single that has received an actual visual accompaniment, something her cousin, Bella Danzi immediately had a vision for.
Dwarfed by rows, and rows of family photos, Danzi recalls the precise moment when she heard the song for the first time: Sitting out on a stoop in New York City, eating lunch, waiting for a friend.

"30 seconds into the song, I physically had to put down my food, because I was like, 'This is it. She's found her sound,'" said Danzi, who is also a Tisch student, studying film.
Her visceral reaction to the 80s Pop vibe and energy of the track — which she describes as 'rallying,' — was enough to solidify her decision to direct and produce a music video for it.
Since childhood, the cousins have been in tune with each other artistically. Singing and playing instruments together, acting in the same theater shows — collaborating is very much an ingrained part of their relationship. When the video dropped this past September, they both posted in some capacity that it was a "childhood dream" coming true.
The concept was always clear from the start.
Not only does Song personify this idea of not belonging in what is almost a suburban fantasy, but there also lives the idea that she, along with the other dancers are invading this space; taking it over.
When have you ever seen a green, silk kimono and heels worn to the playground? A pink, knee-length dress and sandals at the pool?
Nestled in the back of a coffee shop, periodically sipping on something iced, Song is quick to set the record straight about the vision. "We were actually weary that this would come off like we were glorifying the suburbs," she said. "We made a point to pick places that were distinctly suburban, but it wasn't a love letter to it."

What the girls had envisioned for the visuals of the video, coincidentally mirrored the people who were actually working on the video.
In total, 9 women were a part of this production. Besides Song, Danzi, and the four dancers, Julia Kupiec worked as director of photography, and Alex Kary as the assistant camera. Samantha Verity rounded up the group as the choreographer, on set to complete the crew.
Working with all women, was never a purposeful choice, but looking back on it, both Danzi and Song agree that somehow, it made sense to be surrounded by women to shoot this particular song, with this particular concept.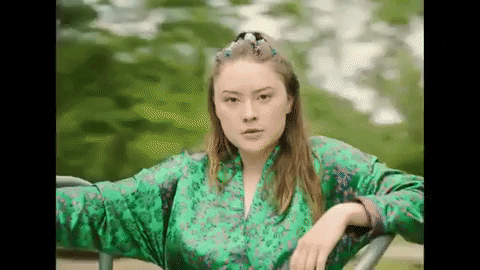 "It was probably the most skeleton crew you could imagine — but it was nice because it was just us," said Danzi. "These were the people that were perfect for the role, which just worked out because they were also female." Song describes it succinctly: When the video was done, it just felt "right" that everything was produced by women.
Being a part of this 'skeleton crew' as Danzi puts it, meant being a team. And on a team, sometimes you wear more than one hat.
At a call time of 8 am, along with being the talent on-screen, Song also helped out with costumes, hair, and makeup, on the day of the shoot. Kupiec, who shot the video, collaborated with Danzi before and experimented with different shots and visuals to truly make the heart of the song feel tangible.
It's not hard to imagine why it just so happened that this production was made up of women. Lounging comfortably on a beige love seat, Danzi talks about where she draws inspiration from and her love of the wide shot.
"The major inspiration for the style, was Solange," gushed Danzi. Music artist, Solange is very much an influence on Danzi's creative direction. She explained how the artist's use of the environment and the element of stillness is instrumental in telling the story. The use of it in "Heartbroken", is more than apparent. With its sprawling, green manicured lawns, tall trees, and openness, the video might as well be an ode to the environment.

The music video comes to a close with Sabrina swathed in blue satin, her four dancers behind her, strutting down the street, dancing with ease and confidence. It's safe to say the takeover is complete.